Laurels for Linguists: John Baugh Appointed to National Academies' Board
Wednesday, March 8, 2017 - 2:41pm
This post was republished and archived on June 28, 2017.
LSA Fellow John Baugh has been tapped to serve a three year term as a member of the Board on Behavioral, Cognitive, and Sensory Sciences (BBCSS) of the National Academy of Sciences. The Board is housed within The Division of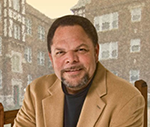 Behavioral and Social Sciences and Education – one of five divisions of the National Research Council. The Board was established in 1997 to meet the emerging need for a broader, cross disciplinary intellectual resource to help the National Research Council and policy making communities better use the science of these domains to inform and enhance policy decisions and practices.