The National Commission on Language Learning: A report from LSA members
Tuesday, March 7, 2017 - 3:21pm
In late 2014, four United States Senators and four Members of Congress requested from the American Academy of Arts and Sciences a study to examine the country's current capacity in languages and language study. The Academy convened a Commission on Language Learning, whose members included three linguists: Mark Aronoff, Jessie Little Doe Baird, and Philip Rubin, along with other representatives from a wide variety of fields and occupations touching on language education and language policy.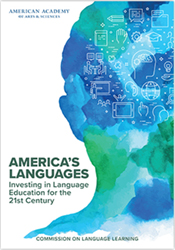 The Commission met several times over a period of 18 months and issued two official reports, both of which are available from the Academy as free downloads. The first report, The State of Languages in the U.S., a Statistical Portrait, provides a statistical overview of the use of languages and language teaching in the U.S. The second report, America's Languages: Investing in Language Education for the 21st Century, contains a set of specific recommendations centered around five goals:
Increase the number of language teachers at all levels of education to that every child in every state has the opportunity to learn a language in addition to English
Supplement language instruction across the education system through public-private partnerships among schools, government, philanthropies, business, and local community members
Support heritage language already spoken in the United States, and help these languages persist from one generation to the next
Provide targeted support and programming for Native American languages as defined in the Native American Languages Act
Promote opportunities for students to learn languages in other countries by experiencing other cultures and immersing themselves in multilingual environments
Monolingualism, while far from common in the rest of the world, has been on the rise in English-speaking countries for centuries. As linguists, we know well the value of knowing more than one language. The challenge is to get others to understand why monolingualism prevails in English-speaking countries and to convince those who control the resources to support concrete initiatives to increase language learning in our society.
This commission is far from the first to try to change our national linguistic habits. The last national commission was convened during the Carter administration. That group came up with numerous recommendations, so many that none of them could gain any traction. From the outset, though, the members of the current commission sought to identify a small number of achievable goals. Legislation will soon be introduced in the House to provide funding towards increasing the number of teachers of languages other than English in this country. We will also be working with business, industry, and nonprofits to build support for these initiatives.
The society and its members have been instrumental in working towards a number of these goals since its founding. The commission welcomes input and assistance as we work towards furthering them. Please feel free to contact Mark Aronoff, Jessie Little Doe Baird, or Philip Rubin, if you would like to contribute.