This Month in Linguistics History: Tribute to Lorenzo Dow Turner
The LSA is pleased to launch a new feature, "This (time) in Linguistics History" to be published on a periodic basis via the LSA website. We invite LSA members to submit their ideas and contributions for future history features. The new feature will be coordinated by LSA Archivist Brian Joseph, in consultation with the LSA Secretariat. Our first feature, in recognition of Black History Month, is published below. Special thanks are due to LSA member Sasha Johnson-Coleman, Norfolk State University, for her suggesting this and for writing the first feature on very short notice.
We plan to publish the next edition of the feature, "This Month in Linguistics History" sometime in March, in connection with Women's History Month. The trigger event for this periodic feature could be an important day, week, month or year in the history of the LSA and/or the field of Linguistics. We are happy to publish as many features as often as LSA members are willing to contribute. Please submit your ideas via e-mail to Brian Joseph or Alyson Reed.
Lorenzo Dow Turner and His Contribution to African Diasporic Linguistics
In honor of Black History Month, the Linguistic Society of America is celebrating the language Gullah along with the life and work of Dr. Lorenzo Dow Turner (1890-1972), an African American linguist originally from Elizabeth City, NC and raised in the Washington, DC metropolitan area, who is considered "the father of Gullah studies." He majored in English and earned degrees in that discipline from Howard University (A.B.) in 1914, from Harvard University (M.A.) in 1917, and from the University of Chicago (Ph.D) in 1926. He was a faculty member at Howard University, Fisk University, and the Roosevelt University in Chicago, while also spending some summers teaching at South Carolina State University. In 1931, he became the first African American member of the Linguistic Society of America and subsequently joined the American Dialect Society.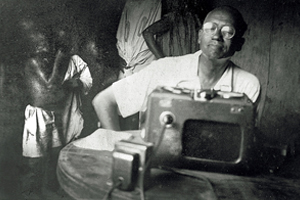 While Dr. Turner was chair of the Department of English at Fisk University, he attended the Linguistic Institute in New York City in the summer of 1930. Later that year Dr. Hans Kurath sent him a letter asking for his help gathering data in the South for the Linguistics Atlas of the United States and Canada Project. He accepted the invitation, having been interested in researching the Gullah language since he was a student at Howard University. After earning a grant from the American Council of Learned Societies, in 1932, he and his wife, Geneva Calcier Townes Turner, moved to the Sea Islands for fourteen months, becoming a part of the Gullah-speaking communities and collecting data in Georgia (Harris Neck, Brewer's Neck, Sapeloe Island, St. Simon Island) and South Carolina (Edisto, Johns, St. Helena, Wadmalow Islands). He continued his work on Gullah, returning to the Sea Islands in the summers from 1933-1935 and in 1939, 1949, and 1942 and studying the African languages (Kimbundu, KiKongo, Yoruba, Ewe, Twi, Fante, Hausa, Mende, Gã, and Wolof) of the Niger-Kordofanian family at the University of London from 1936-1937. From 1932-1949, Dr. Turner's research, publications, and conference presentations were on Gullah, culminating in his seminal work, Africanisms in the Gullah Dialect, published in 1949.
In the 1940s, while still working on Gullah, Dr. Turner began working on research projects involving Afro-Brazilian language and culture. With both the Gullah and Afro-Brazilian communities, he made connections to West African languages and Arabic, revealing those of the African diaspora who still retained remnants of African languages and cultural traditions despite the popular belief that slavery erased all ties to Africa. In the 1960s, he wrote two books on the language Krio, spoken in Sierra Leone, so Peace Corps volunteers could learn it. He continued his research into the early 1970s until his death. Dr. Lorenzo Dow Turner's forty-plus years of scholarship promoted further interest in, and development of, Africana Studies in the Humanities and Social Sciences. Specifically, in Linguistics, his work influenced the study of African American English, Creole and Pidgin languages, and African languages.
-- Sasha Johnson-Coleman, Norfolk State University, Norfolk, VA
Primary Source
Wade-Lewis, M. (2001). Lorenzo Dow Turner: Beyond Gullah Studies. Dialectical Anthropology, 26(3/4), 235-266.
Suggested Bibliography or Works Consulted
Amos, A. M. (2011). Foreword: The Living Legacy of Lorenzo Dow Turner. Black Scholar, 41(1), 2-3.
Kelly, J. (Nov.-Dec. 2010). Legacy: Lorenzo Dow Turner, PhD'26, A linguist who identified the African influences in the Gullah dialect. University of Chicago Magazine. http://magazine.uchicago.edu/1012/features/legacy.shtml.
Smithsonian Anacostia Museum. (August 9, 2010 – March 27, 2011). "Word, Shout, Song: Lorenzo Dow Turner, Connecting Communities Through Language." (pamphlet) Washington, DC.
Turner. L. D. [1948], (1971). Problems confronting the investigator in Gullah. In Walt Wolfram & Nona H. Clarke (Eds.), Black-White speech relationships (p. 1-12). Washington, DC: Center for Applied Linguistics.
Wade-Lewis, M. (2007). Lorenzo Dow Turner: Father of Gullah Studies. Columbia: University of South Carolina Press.